Not only is fall spooky season, but it is the time when all of our favorite sports return. Football, hockey, and basketball are back, as well as playoff baseball. If you're a sports fan, here are some great Dorrance titles that might interest you. Curl up on the couch with your favorite warm beverage and enjoy these sports books!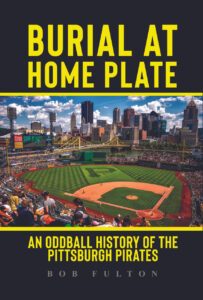 Burial at Home Plate: An Oddball History of the Pittsburgh Pirates
By: Bob Fulton
About the Book
Burial at Home Plate offers a colorful look at the Pittsburgh Pirates, with an emphasis on offbeat moments in team history. Read about the doubleheader completed underwater; the Pittsburgh outfielders whose pursuit of a batted ball was halted by a gun-wielding Cincinnati fan; the pitcher who earned a victory while taking a nap; the dead man who tied a franchise record for games played; the sparrow that flew from beneath batter Casey Stengel's cap; and the rookie who struck out while seated on the bench.
Burial at Home Plate touches on the indoor game that was rained out; the throng of 50,000 that turned out in Pittsburgh for a game played more than 400 miles away; the tipsy pitcher who fell asleep inside the tarp during a game; the future MVPs who delivered their first major league hits while still in the minors; the FBI agent who "pinch hit" for Ralph Kiner; and the Pirates manager who disproved the notion that you can't steal first base.
Burial at Home Plate also shines the spotlight on the Green Weenie, the alabaster plaster, Aunt Minnie, the Rickey Dinks, Destiny's Darlings, Dr. Strangeglove, eephus pitches and—the inspiration for the book's title—a strange pre-game interment that took place at home plate.
About the Author
Bob Fulton has written extensively about the Pittsburgh Pirates for regional and national publications such as Sports History, Pittsburgh Magazine, The National Pastime, Pittsburgh Sports Now, Pennsylvania, the Major League Baseball All-Star Game program and On Deck, formerly the official magazine of the Pirates. His work has also appeared in American Heritage, Football Digest, The NCAA News, NFL Exclusive, Delta Sky, Marathon and Beyond, Basketball Weekly, Referee, The Elks Magazine, Collegiate Baseball and Sports Heritage, among others. Fulton is the author of The Summer Olympics: A Treasury of Legend and Lore; Never Lost a Game (Time Just Ran Out); Top Ten Baseball Stats: Interesting Rankings of Players, Managers, Umpires and Teams; and Pirates Treasures: Facts, Feats, Firsts in Pittsburgh Pirates History. In addition, his story on the major league debut of 15-year-old pitcher Joe Nuxhall was included in an anthology, The Ol' Ball Game. Fulton, a member of the Society for American Baseball Research, resides in Indiana, Pa.(2023, paperback, 336 pages)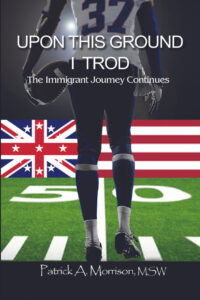 Upon This Ground I Trod: The Immigrant Journey Continues
By: Patrick A. Morrison, MSW
About the Book
is the continuation of Patrick A. Morrison's first book, Before Common Ground: Journey of an Immigrant Football Player, and gives a behind-the-scenes look of the life of an NFL rookie and the challenges Morrison faced during his life transitions.
As an NFL rookie, Pat attempts to navigate the politics of professional football with the hopes of providing the quality of life that he yearns for, not just for himself but for his mother and newborn daughter. Endurance, perseverance, and resilience push Pat to strive for success in the face of setbacks and never give up on his dream.
"Having recruited Pat to Southern Connecticut back in 1982, I have had the pleasure of watching Pat grow and develop exponentially as a football player and more importantly as a man.
He fulfills his responsibilities as a husband and father with the same ferocity he exhibited with his tackles on the football field.
I could not be prouder of the example Pat has set for all young men who wish to make a positive difference in our country."
Kevin Gilbride: 2X Superbowl Champion Coach
About the Author
Patrick A. Morrison, MSW works in telecommunications and has a master's in clinical social work. He volunteers doing food distribution with the Bethesda Baptist Church of New Rochelle, NY. He resides in Connecticut, and he is married with three children. In his free time, Patrick enjoys playing golf, reading, and practicing Jujitsu, in which he is a black belt. (2021, paperback, 196 pages)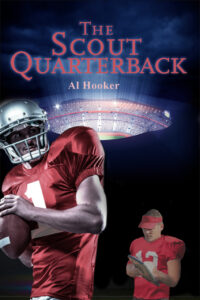 The Scout Quarterback
By: Al Hooker
About the Book
The Scout Quarterback is a standout sports novel sure to satisfy the desire for a good book from fans.
Matt Mallory is a young collegiate quarterback whose solid situation at Western Nebraska is overthrown when a new coach arrives. This coach is bent on winning at any cost, integrity of the game be lost! This is not the way Matt learned to do the game and his struggle to maintain his ethics, while also succeeding in football and in life, makes for a most action-filled adventure.
Full of excitement and lessons learned, both on and off the field, this readable novel even adds an extra point: an outline of some of the strategy, formations, and points of execution of America's fall pastime. No doubt about it, Al Hooker has put this new gridiron tale through the uprights!
About the Author
Al Hooker has BA and MA degrees in Physical Education from California State University. He has been an educator and an administrator in schools for many years, and has fifty-eight years of experience as a football and a track coach at various levels. He has also served as an Athletic Director. His teams have a lopsided winning percentage and have garnered many conference championships. He is in the National Football Foundation Hall of Fame, the La Salle Club Hall of Fame, and the Sac-Joaquin Section Hall of Fame. He is currently the commissioner of a high school athletic league. (2018, Paperback, 202 pages)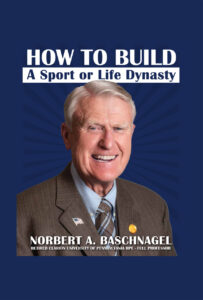 How to Build a Sport or Life Dynasty
By: Norbert A. Baschnagel
About the Book
"In this his fourth sports themed book Norbert Baschnagel tells the story of how he took a struggling, non-winning women's tennis program at Clarion University of Pennsylvania and turned it into the conference leader with an astounding string of wins during his stint as head coach. The achievement led to many honors including his being named the conference's "Coach of the Year" and being inducted into the Clarion University Sports Hall of Fame." Baschnagel then provides a detailed blueprint of how he achieved his success and how others can achieve similar results. Baschnagel eventually left coaching to become a member of the Clarion University faculty, teaching in the university's Department of Health and Physical Education for many years before retiring recently. A few years before his retirement Professor Baschnagel received one of academia's highest honors when he was named a full professor. Though Coach/Professor Baschnagel is now retired he is not resting on his laurels as he remains active in the community and the sports world. And as this book ably demonstrates while he may be retired he is still very much in the game." (2021, hardback, 166 pages)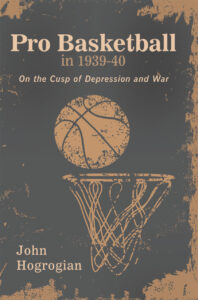 Professional Basketball in 1939-40: On the Cusp of Depression and War
By: John Hogrogian
About the Book
Professional basketball began its modern history in 1946, when the postwar economy put money in the hands of working people. Basketball promoters were invested in the professional game as a new winter spectator sport. Only after 1960 did the sport begin to achieve the big-time status that it now enjoys.
The postwar sport was built on an ill-funded, unglamorous industry that survived through the hard times of the Great Depression. There is little historical treatment of that earlier game. Pro Basketball in 1939-40 takes a detailed view of one season, as the Depression ground on. World War II, however, had started in Europe and would soon change everything about pro basketball in the United States.
About the Author
John Hogrogian is an attorney living in Brooklyn, NY. He is retired from a career as a lawyer for the New York City government. For most of his life, he has played baseball, football, and basketball for fun, if not very well. For most of his adult life, John has done historical research into those three sports in their pre-World War II days. He finds it a great thrill, a kind of time travel. (2020, Paperback, 180 Pages)
See You at the Top
By: Michael R. Willson
About the Book
This is a true story about Dr. Jack Rodgers, Michael R. Willson, and their alliance at the Odessa College to create the Odessa College Men's Gymnastics program.
As the president of Odessa College, Dr. Rodgers decided to drop the men's college football from the sports program at the college. To put Dr. Rodgers' decision in perspective, the city of Odessa is the city where the movie Friday Night Lights was filmed. Friday Night Lights is all about Texas high school football—how intense it is; how many Texas state high school championships have come from the city of Odessa, Texas; how many top college recruits have come from the area. Dr. Rodgers' decision to replace the Odessa college football programs, and to replace it with men's college gymnastics, was a bold and significant move in the middle of Texas high school football country. And with Willson as head coach, the gambit paid off—with Odessa ranking among the best in their class in college gymnastics from the team's beginning in 1966.
About the Author
Michael R. Willson is a retired gymnastics coach and college professor from Ohio State, Odessa College, and University of Buffalo, as well as a retired elementary school principal. Willson earned 11 Coach of the Year awards, 1 NCAA Coach of the Year award, and 3 Big Ten Coach of the Year awards. He served on the Olympics Committee, as Vice President of the United States Gymnastics Federation, and as a USA Coach on foreign tours to Russia, Bulgarian, Riga, Toronto, Cuba, Poland, and the Czech Republic. He received the Ohio Governor's Commendation for Coaching in 1985 and The State of Ohio Senatorial Commendation for Teaching Excellence. While teaching and coaching at Odessa College, he received an Outstanding Achievement award from the Board of Trustees and a Teacher of the Year award from the faculty and students. As a teacher, his favorite courses were anatomy, physiology, and kinesiology.
Willson and his wife, Helen, enjoy traveling, finding themselves in Florida every winter. He also enjoys playing golf. (2018, Hardcover, 106 pages)
An Ultra Marathoner's Journey
by Jack Andrish
About the Book
LACE UP YOUR RUNNING SHOES and get ready for an outdoor biographical adventure like no other. Jack Andrish has been running ultra marathons since his son introduced him to trail running in the 1990's. Running alongside his supportive family, Jack has enjoyed one surreal experience after another while attempting the hundred-mile feat. But above all, he's learned that no matter how far you get into a one-hundred mile event, each run is a unique and mystical experience worth cherishing.
About the Author
JACK ANDRISH is a recently retired orthopaedic surgeon from the Cleveland Clinic. After fifty years spent as an orthopaedic surgeon as well as tending to his small farm, he now enjoys exploring personal hobbies such as downhill and backcountry skiing, hiking and of course, running. Andrish first began running marathons in his forties, but that late start didn't stop him from pushing his limits in his fifties with trail running and ultra marathons. He has completed ultra marathons on mountain trails with distances from 50 K to 100 miles, often times accompanied by his wife, son, daughter, son-in-law, and grandkids, all of whom have embraced these lifelong passions and are his support and cheer squad. (2021, paperback, 146 pages)