This Spanish Village Has More Bookstores Than Students!
Imagine a place where there are more booksellers than students. A tiny village where people come almost exclusively to shop for books. Well, this village exists!
In Spain, the tiny village of Urueña boasts a strong industry of bookstores. Located in the rural Spanish countryside, Urueña has a population of 100 people – and 11 stores that sell books, with 9 dedicated bookstores. That is over 1 bookstore for every ten people!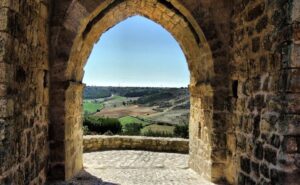 According to a piece by the New York Times last month, this village has an aging rural population and not much industry to speak of. Turning into a book lover's mecca didn't happen on accident. It was a concerted effort by the town in order to bring visitors and a sense of pride to Urueña.
There are several rural book hubs across Europe, according to this report, such as notably Montmorillon in France and Hay-on-Wye in Wales. The village of Urueña invested about 3 million Euro from the government to restore old buildings and convert them into bookstores. They also created a conference center with the funds, making the town even more attractive for outside tourists. 
As it turns out, there is more than meets the eye when it comes to book tourism: 
Spain has one of Europe's biggest book-publishing markets, feeding a network of about 3,000 independent bookstores — and double that number if stationery shops and other places that sell books are counted. But about 40 percent of bookstores have less than €90,000 in annual revenue, which amounts to operating "a subsistence business," according to Álvaro Manso, spokesman for CEGAL, an association that represents Spain's independent bookstores.
The economics of the small town leave something to be considered. Despite the bookselling industry, no younger people are moving to Urueña. The vast majority of the 100 people who live there are retirees, living off their pensions. Food and other supplies must be delivered from larger towns. Rural populations continuing to decline is a trend in Spain. 
The residents remain hopeful and proud of being a tourist destination. Around 19,000 tourists visited Urueña in 2021, despite the covid-19 pandemic. Local officials think the number was probably higher, due to those who only stayed for the day and didn't check in with the local offices. 
The Times article featured several residents.
Isaac García has a bookstore in Urueña that specializes in publications about film. He and his partner had previously lived in Hay-on-Wye, the book haven in Wales. The couple jumped at the opportunity to have their own bookstore in the heartland of Spain.
"We felt that we could combine a great business with a dream countryside lifestyle, but this time in our home country," García said. "Hay of course has had much more time to mature and establish itself as a literary hub, but I think we're getting there in Urueña, bit by bit."
Likewise, longtime resident Joaquín Díaz, is a Spanish folk singer and ethnographer. Díaz, now 74, moved to Urueña from Valladolid in the 1980s and lives in a historic building where he has gathered a vast collection of instruments, books and recordings. His home was turned into a museum by the provincial authorities three decades ago.
When he first arrived in the village, there were more specialty stores, including a thriving crafts sector. Now that industry is gone, replaced by the bookstores. There is not much nostalgia for it, though, as the bookstores have allowed the village to have new life. 
"Overall, life is much easier now in the Spanish countryside than 50 years ago, and nobody could ever imagine that books could ever get sold and help save this village when I arrived here," Díaz said.
Maybe we will see a Dorrance title in one of these bookstores someday.
Read the Times article for more details!