The Unique Encyclopedia You Need to Check Out
At Dorrance, we pride ourselves on being accepting of a wide variety of books. One recently published book, Knowledge of Pressed Ware: Trademarks, Labels and Logos on U.S.A. Glass Companies, is an encyclopedia of American glassware.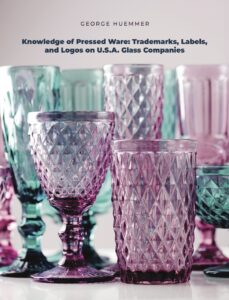 Author George Huemmer is from Casselberry, Florida. He wrote the book in order to have all his information on glassware and glass companies in one place. Given the size of the book – it tops out at 274 pages – one can safely assume this is a topic with more information than the average person might suspect. 
For example, Huemmer said in a written interview, different glass companies have different signature colors and composition. Glass manufactured by Fenton Art Glass Company will be markedly different from glass manufactured by Imperial Glass Company. Both of these companies began in the early 1900s and have signature glassmaking styles to each of them. 
According to Huemmer's book, glassware was only for the rich and powerful before the Industrial Revolution. The rapid industrialization of America made glass available for the average consumer.
During this time – crucially, before the rise of plastic – glassware dominated. By the mid-20th century, plastic increased in popularity, and glassware, while still affordable for the average person, became more of a statement piece in one's home. Funky patterns and colors for various glassware products such as vases and pitchers were in style in the 1970s and '80s. 
Huemmer's encyclopedia of glass also includes information on the labels and logos of companies, so readers can identify them easier. To write the book, he sourced his own years of experience collecting, as well as his favorite books about glass and old catalogs. 
When he is not writing about or collecting glass, Huemmer enjoys going to flea markets and garage sales. 
Knowledge of Pressed Ware: Trademarks, Labels and Logos on U.S.A. Glass Companies will be of interest to anyone with even a passing interest in glassware, American manufacturing and consumer history. It is available for purchase on the Dorrance Bookstore.