Blast from the Past: Science Fiction Pioneer Clare Winger Harris
What do the history of women science fiction writers and the history of Pulp magazines have to do with Dorrance Publishing?
In Dorrance's long history, many different authors have come through our doors. One author who stands out is Clare Winger Harris, a science fiction writer in the 20th century. Harris is credited with being the first woman to publish under her own name in science fiction magazines. In 1947, she published an anthology of her science fiction stories with Dorrance when we were known as Dorrance and Company in Philadelphia.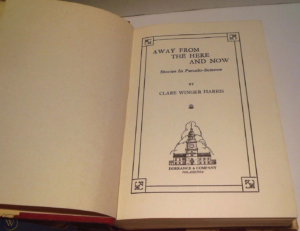 According to a book collector and Harris' Wikipedia entry, Harris was a housewife in Ohio who had the dream of being a science fiction writer. She published a romance adventure novel titled Persephone of Eleusis: A Romance of Ancient Greece in 1923. However, her science fiction dreams could not be ignored. 
An admirer of science fiction pioneers Jules Verne and HG Wells, she submitted and published science fiction stories in pulp magazines Weird Tales and Amazing Stories in the 1920s. Her first short story, titled "The Runaway World," was published in Weird Tales in July 1926. In December 1926, she submitted a story for a contest being run by Amazing Stories editor Hugo Gernsback. Harris's story, a space opera about Martians who steal earth's water titled "The Fate of the Poseidonia," placed third. Harris would go on to write for these cult-favorite magazines and eventually published her anthology of science fiction stories in 1947 with Dorrance titled Away From the Here and Now.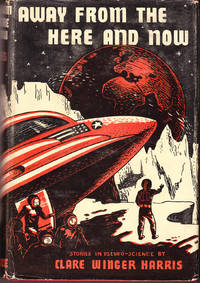 Little is known about Harris' life, but according to census records and an interview with her grandson it is known that Harris and her husband divorced after their kids were grown. Clare then moved to Pasadena, California to live out the rest of her life until her death in 1968.
Crucial to Harris' life as a writer was the fact that she was a woman. At the time of her writing in the 1920s-1940s, it was common for female science fiction writers to adapt gender neutral pen names out of a desire to be taken seriously as writers, as well as to not be ignored by the male-dominated world of science fiction. Clare Winger Harris chose to use her full name on all her publications. She is the first American woman to use her actual name for science fiction. Because of this, she is seen as a pioneer for women in science fiction by feminists and science fiction hobbyists alike.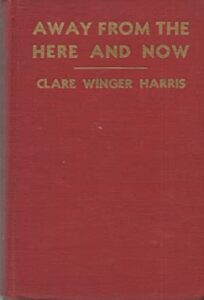 Away From the Here and Now, Harris' anthology published by Dorrance, contains eleven stories that were previously published in the magazines Weird Tales, Amazing Stories, and Science Wonder Quarterly. Dorrance is proud to have had a small part in the career of such a pioneer!
Sources:
Post by Jeanie St. James in Book Collectors Facebook group
Clare Winger Harris – Wikipedia
Away From The Here and Now – Worthpoint
Have a science fiction anthology YOU would like to publish? Contact us!