Author Spotlight: Artemios Korkidis and Dr. Katherine Korkidis
This week, we feature the recently published memoir and story collection The AJK Anthology. This work is not your typical memoir – Artemios Korkidis grew up on the island of Crete during Nazi occupation. He would later migrate to New York City. Surrounded by cherished family members, Artemios lived his life doing what he loved, painting, writing, and inspiring others. This work is a collection of his personal journals, reflections, and writings, translated from the original Greek and put together by his daughter, Dr. Katherine Korkidis. Dr. Katherine Korkidis has a PhD in physical chemistry and is also a writer like her father. Through her love and respect for her father, she has helped preserve his life's writings for generations to come in this inspiring biographical memoir.
We spoke to Katherine about bringing this special book to life.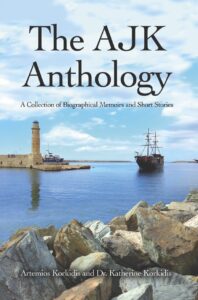 What made you want to write and publish this book?
Artemis John Korkidis after the loss of his beloved wife, Sophie, chose in his later years to write stories about his life and his experiences as a gift to his daughters and his grandchildren.
Written originally in Greek he asked his daughter, Dr. Katherine E.A, Korkidis, a writer, to do a translation of his writings so that all his grandchildren and their grandchildren could read it someday.
Katherine translated and combined two of her father's four manuscripts, as well as added new content to create The AJK Anthology.
How long did it take to write the book?
It took Artemis 6 months to write his first two manuscripts. It took Katherine four months to completely translate and add content to her dad's writings.
What was the most difficult part of putting this book together?
The most difficult part was securing the original photos in a higher resolution of the first executions during the German occupation.
What was your favorite chapter (or part) to write and why?
My favorite story to translate and for my father to write was part 4: The Battle of Crete. He had written this story when we were very young children. Having lived through this difficult time for his homeland he wanted us to one day understand the bravery of people that fought for freedom. When I found this story amongst his manuscripts I had to add it to the Anthology. It was written from the memories of a young man.
Besides writing this book, what are your other interests?
My father was a philosopher and an intellectual, a loving husband and father. He loved to learn and read, particularly politics, and was always there to help all who knew him.
He loved to write, paint, spent time with his family, and inspire others. He was an avid painter and had created over 500 paintings of nature. He loved the natural world, the sea in particular. His first love was the sea. I am proud to be his daughter and give an audience to his many works. His legacy to all of us was his love of others, his thirst for education, and most of all his love for our natural world.
Katherine E. A. Korkidis is a PhD physicist and loves writing, teaching, and astrophysics. I am a classical pianist and love to sing and lector.
I love the natural world as did my father, particularly the sea. It serves as an inspiration for my writings. I am a writer of short fictional stories of various genres from science fiction to mystery and have also published my first novel four months ago called Josette, my second novel, Daniel, is being currently printed, and I am writing the third novel, Josette and Daniel, of this trilogy.
I have also written my own Anthology of my short stories to be published soon. I also like to write blogs for My Author's Corner on My website is https://katherinekorkidisauthor.com/ and posts on my author's FB page ( https://www.facebook.com/profile.php?id=100079099482023). I have written websites and do freelance work as a graphics designer.
How did you celebrate the publishing of your book?
With my father now gone it was not a celebration but rather a realization of a promise delivered. I was proud of his works and my only regret was that I did not finish his book before his death.
If your book was made into a movie, who would play the main characters?
My father was a gentle man with much intelligence and understanding.
My favorite actor is Tom Hanks, particularly of his performance in "News of the World".
In addition he loves the Greek Islands and with his wife who is of Greek descent, Rita Wilson, he is immersed in Greek Culture and history.
What did you enjoy most about working with Dorrance Publishing?
From the first step working with my sales consultant, updates from [company president] David Zeolla to inform me on the next step, and the experience of working with an excellent production and promotion team. The entire process was easy and very professional. I would have to say I enjoyed the editing process the most.
Five favorite books of all time?
My dad loved the philosophical works of Plato, Socrates and the tragedies of Sophocles and Euripides and of course the Iliad and the Odyssey by Homer.
I love the works of Dickens, particularly A Tale of Two Cities, The Christmas Carol, Great Expectations, and David Copperfield.
My favorite five works are Les Miserables by Victor Hugo, The Dubliners by James Joyce, Jane Eyre by Charlotte Bronte, Crime and Punishment by Fyodor Dostoevsky and War and Peace by Leo Tolstoy. I have many other classical writers of British and Russian literature that I admire and enjoy reading.
Do you have any advice for anyone looking to preserve a family members' writing through a book like The AJK Anthology?
Keep all photos and writings such as journals from members of your family, both young and old. Preserve them if you can. Take the time to piece together all in a written work. 
I would highly recommend to piece together through writings and photos into a timeline and record of your family's history. Giving the gift of a family history is priceless for future generations.
Thank you, Dr. Korkidis!
You can purchase The AJK Anthology at the Dorrance Bookstore.
Have a family history book you would like to publish? Contact us!