Monday Motivation: Basketball Books Spotlight
As both NCAA college basketball and the NBA heat up this season, you may want to discover some stories related to the beautiful game. We have many great books related to basketball – both nonfiction and fiction alike – that are currently on sale at the Dorrance Bookstore. These stories offer inspiration for your own game or your everyday life. Use the code HOOPS to get 25% off these select titles for the rest of March! 
The following are some of our favorites that you can scoop up now:
1. Everyone Picks Jake by Jeffrey C. Fidge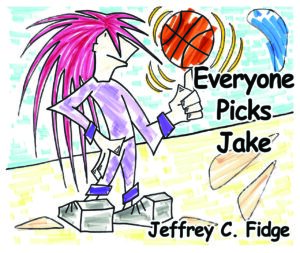 About the Book
All kids want to be picked first and be on a winning team. Everyone Picks Jake focuses on a young man who is great at all sports and is chosen first for all the teams. In this illustrated story, readers discover it is more than skill working for Jake. It's also teamwork and sportsmanship that build friendships and contribute to success. The artwork comes alive when kids read the story. Get involved in sports activities for the fun of it!
About the author
Jeffrey C. Fidge has a background degree in landscape horticulture from MSU. He is retired and assists in a local school with special education kids. He's always wanted to produce/illustrate children's books, because he loves to draw. Fidge is an avid runner who donates to both local and world causes.
(2022, hardcover, 44 pages)
2. The Long, Cold Winter: A Basketball Story by John Browning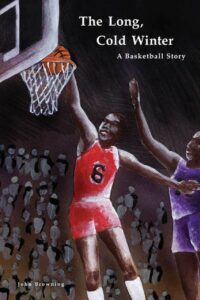 About the Book
When Hugh Kennedy accepted the position as head coach of the Collinsville High School boys varsity basketball team, he never imagined the challenges he would face. While basketball remained popular among the townspeople in Collinsville, the school team was unpopular, undermanned, and unskilled. Armed with a little determination and a lot of hard work, Hugh set out to teach his players a new style of shooting, the jump shot, which promised to overcome the inexperience of his young team. But will the young men develop the heart and team spirit needed to overcome the low expectations of their family, friends, and opponents? And can Hugh rise to the occasion to be the coach Collinsville needs? John Brownings The Long, Cold Winter: A Basketball Story encourages both young players and coaches to meet their challenges with an open mind and never give up on their dreams.
About the Author
John Browning is a retired insurance claims supervisor who worked for United States Fidelity and Guaranty Company until 1995. He holds a bachelors degree in English from the University of Virginia, which he earned in 1961. A native of Flint Hill, Virginia, Browning now lives in Charlottesville, where he has been a member of American Mensa, Ltd. since 1985 and the American Legion since 2001. In his spare time, Browning enjoys traveling and watching spectator sports. The Long, Cold Winter: A Basketball Story, inspired by his own experiences playing organized basketball in his youth, is Brownings third published book. His other titles include Flint Hill and R.I.P, USF&G: How Downsizing Ruined a Perfectly Good Insurance Company.
(2007, paperback, 64 pages)
3. Professional Basketball in 1939-40: On the Cusp of Depression and War by John Hogrogian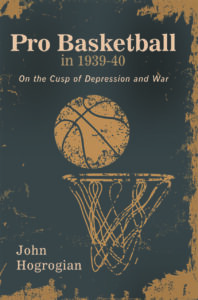 About the Book
Professional basketball began its modern history in 1946, when the postwar economy put money in the hands of working people. Basketball promoters were invested in the professional game as a new winter spectator sport. Only after 1960 did the sport begin to achieve the big-time status that it now enjoys.
The postwar sport was built on an ill-funded, unglamorous industry that survived through the hard times of the Great Depression. There is little historical treatment of that earlier game. Pro Basketball in 1939-40 takes a detailed view of one season, as the Depression ground on. World War II, however, had started in Europe and would soon change everything about pro basketball in the United States.
About the Author
John Hogrogian is an attorney living in Brooklyn, NY. He is retired from a career as a lawyer for the New York City government. For most of his life, he has played baseball, football, and basketball for fun, if not very well. For most of his adult life, John has done historical research into those three sports in their pre-World War II days. He finds it a great thrill, a kind of time travel. 
(2020, Paperback, 180 Pages)
4. Football School? A Fan's Look at Auburn Basketball by Theodore "Ted" Watson
About the Book
Following a fan's personal encounter of Auburn's rise in college basketball, Watson shares how Auburn basketball went from average to among the best college basketball team under the coaching of Bruce Pearl. With a brief history and a peak into the different eras of Auburn basketball, it is concluded with Auburn's rise under Bruce Pearl's coaching. 
About the Author
Theodore "Ted" Watson retired from the Air Force after twenty-one-and-a-half years of service. He attended colleges in various locations throughout his Air Force career. Watson retired from the Alabama State Department of Education in 1997. From 2000 to 2008, he was a consultant on asset management for the SDE.
(2020, Hardcover, 126 Pages)
5. The Missing Link of the Sport of Basketball by Martin Suazo, Sr.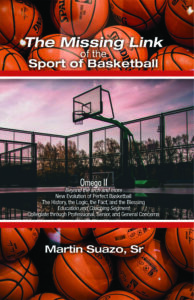 About the Book
After witnessing a sports phenomenon at the age of 12-years-old, Martin Suazo has wanted to share this secret with millions of basketball players throughout the world. Suazo hopes to change the technique of the off-set shot and inspire his readers to learn, master, and share these new techniques in the large community of basketball. 
About the Author
Martin Suazo, Sr. was born in a small community named El Valle de los Indios, about 50 miles west of Albuquerque, New Mexico. He then moved to Las Vegas, New Mexico with his family as a child and graduated in 1957. Suazo then attended Highlands University for two years. He was also an activist in civil rights issues between 1970 and 1990. Martin served as a precinct chairman but never ran for office. He was chairman for the American G.I. Forum from 1975 to 1978. Suazo was granted a special dispensation by the Forum to serve as a non-military representative. He made his living as an insurance agent but was well-known for his passion in basketball.
(2020, Hardcover, 38 Pages)
These titles and more are available now at the Dorrance Bookstore. Use code HOOPS for 25% off!
Have a sports story you would like to publish? Contact us!