Author Spotlight: Joy Winkie Viola
In this week's Author Spotlight, we get to know Dorrance author Joy Winkie Viola. Their travel memoir, From Schnitzel to Nockerln And Everything That Happened In Between, paints a tender tribute to her late husband Alfred and the many adventures they shared over their half-century together.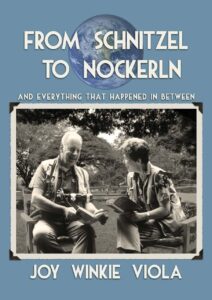 Name: Joy Winkie Viola
Hometown: Wayland, Massachusetts
Book Title: From Schnitzel to Nockerln And Everything That Happened In Between
Describe your book in 10 words or less.
Travel adventures, often humorous, about nature on all seven continents.
What made you want to write your book?
Before my husband died of COVID, I had been reading my old travel diaries to him. I realized there were many good stories within them that I thought others would enjoy.
What do you do when you have writer's block?
Edit! I can always edit existing copy when the muse isn't with me!
What was your favorite chapter to write and why?
Face to Face with a Polar Bear –  because it was such an unusual experience living in the tundra buggies, dealing with difficult weather conditions and being with the great bears. I really wanted to share that multi-faceted adventure.
If you were stuck on an island had to choose who to be with of the following, who would you choose?
-One friend or family member: Shane Dore, my great nephew. He's an Eagle Scout!
-One fictional character: Shadow, he Golden retriever in the movie Homeward Bound
-One famous person: Betty White
Besides Writing, what are your other interests? Travel, birding, gardening, Golden Retriever Rescue, reading mysteries and spy novels.
Do you keep a journal?
Always when traveling – those journals were the basis for my book.
How did you celebrate the publishing of your book?
I had a great book launch at our local country club with hors d'oeuvres and a string trio from our local symphony playing classical music. 90 people attended.
If your book was made into a movie, who would play the characters?
That's a tough question because the book spans so many decades of our lives.  Maybe Jessica Chastain could play me and Channing Tatum my husband. They are both in their 40's so that's midstream – not that this would ever happen!
What did you enjoy most about working with Dorrance Publishing? The editing process as I had so many unusual terms, names of bird species etc. for which we had to develop style that wasn't in the Chicago Manual.
What are your 5 favorite books?
1) The Unlikely Spy (because it was Daniel Silva's first book – and he's now one of my favorites
2) All Creatures Great and Small (Because I love animals)
3) Cry of the Kalahari ( Because it was a wonderful story about African wildlife)
4) The Last Train to London (because it parallel's my husband's childhood experience in World War 11)
5) The Little Engine That Could (childhood book, but inspiring theme)
One sentence of advice for other writers:
Be consistent. Once you decide to write a book, stay with it daily.
Thank you, Joy!
Do you have a memoir you are itching to publish? Contact us!