Author Spotlight: Tom Walker
Name: Tom Walker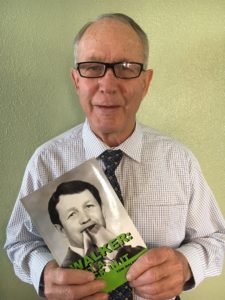 Hometown: Cedar City, Utah
Book: Put A Sock In It
Genre: Fiction, Education
Describe your book in 10 words or less.  A humorous historical book about teaching special education.
What made you want to write Put A Sock In It?  I did it for my family and friends who encouraged me to write it.
How long did it take you to write your book?  I worked on it for well over ten years.
How do you choose the names of your characters? I used real first names only.
What do you do when you have writer's block? Sleep on it and ask others for help.
What was your favorite chapter (or part) to write and why? Chapter Two because it tells about the funny things that happened in the classroom.
If you were stuck on an island and had to have one person from each category with you, who would they be and why? 

One character from your book:  Emery

One fictional character:  Huck Finn

One famous person: Paul Newman

Besides writing, what are your other interests? Hiking, camping, fishing, traveling
Do you keep a journal? Yes.
How did you celebrate the publishing of Put A Sock In It? We went out to dinner.
If your book was made into a movie, who would play the main characters? My son and daughter.
What did you enjoy most about working with Dorrance Publishing? They were very encouraging, patient, and professional.

Five favorite books of all time? DaVinci Code, Angels and Demons, Undaunted, Fire and the Covenant, The Work, and The Glory Series.

One sentence of advice for other writers? Never give up.