Author Spotlight: Tim Packman
This week on Author Spotlight, we feature Dorrance children's author Tim Packman. His recently published book, Petey the Pace Car, is a feel-good tale about a beloved race car who reinvents himself as a pace car once his racing career is over, leading the cars at his beloved track to the green flag. Packman discusses the message of the book, as well as his involvement with racing over the years.
Name: Tim Packman
Hometown: Buffalo, NY; Akron, NY
Book Title: Petey the Pace Car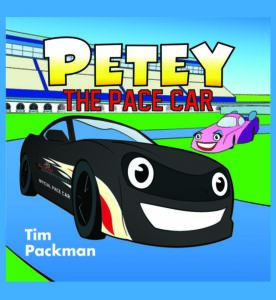 How did you come up with the idea for Petey the Pace Car?
Petey the Pace Car was the name I gave to my 2015 Camaro when it was used as the actual Pace Car at Lancaster (NY) National Speedway & Dragway when I was the President for three years. The idea came from there and then I developed the story and decided it would make for a good children's book.
How long did it take you to write the book?
I conceptualized in my mind for months, jotted down little notes and ideas. When I actually sat down to type it up and put it all together…2.5 hours. Then, some minor tweaks along the way.
What was your favorite part of writing the book?
I have always liked to read, with biographies as my favorites. Writing is the joy of taking an idea, thought or purpose and putting it together in an informative and entertaining way so a reader gains knowledge and enjoys what I write.
What message do you hope readers will get from the book?
Because you are doing something now, or did something back then, it doesn't mean it's over when the newer, shinier players/participants come along. You can reinvent yourself and still be involved with something you love and are passionate about in life.
What keeps you coming back to racing after all these years?
I grew up watching my dad and stepfather race, while my uncle was the starter (flagman) at many tracks and is in the Friends of Auto Racing Hall of Fame for his 50+ years of dedication to the sport. My first job ever was cooking in the concession stands at Lancaster and I have been involved in racing professionally now for 25 years. It's in my blood and part of who I am and what I enjoy.
Besides racing (and writing) what are your other interests?
I am a HUGE fan of the Buffalo Bills, I like hockey and enjoy being on a lake or river.
If you were stuck on an island and had to have one person from each category with you, who would they be and why:
-One friend or family member: My brother, Jim
 –One fictional character: Batman
 –One famous person (living or dead): Elvis Presley or Dale Earnhardt
What are some of your favorite books?
Believe it or not, "Jonathon Livingston Seagull" was one of my favorites growing up. He dared to be different.  I also enjoy books about President Abraham Lincoln, and other presidential-themed books.
What advice would you give someone looking to write a children's book?
Come up with a character or message kids will latch on to and make them a better person after they read and/or hear it.
What did you enjoy most about working with Dorrance Publishing?
The process of idea to paper to print to holding the book in my hands is great. The whole "coming to life" is incredible. Now, having people buy it and let me know what they liked – or didn't- is the best part.
 Thank you, Tim!
Petey the Pace Car is available for purchase now at the Dorrance Bookstore.
Do you have a children's book you'd like to share with the world? Contact Us!