Author Spotlight: Mark Chartrand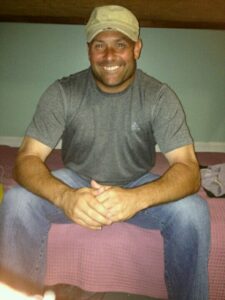 Name: Mark Chartrand
Hometown: St. Louis, Missouri
Book Title: A Dog Named Chilli: My New Home
Genre: Children's/Fiction
Dorrance Publishing (DP): Describe your book in 10 words or less.
Mark Chartrand (MC): Life lessons wrapped up in adventure for young readers.
DP: What made you want to write your book?
MC: My dog Chilli was the reason I wrote the book. It's a fictional story of course but, at the time I adopted him from the APA of St. Louis I was dealing with a lot of issues in my life due to some poor choices I made. The outcome of those choices landed me in prison taking me away from everyone I loved, including my dog Chilli. I had plenty of time to think about my mistakes. During that time, I thought about Chilli's life and what he endured before he was rescued, and I brought him home. I guess you could say we rescued each other.
DP: How long did it take you to write your book?
MC: I wrote "A Dog Named Chilli: My New Home" in six weeks. The story came to me as I loosely based the characters Chilli encounters on situations I found myself in at different stages of my life. The most important lesson I want young readers to take away from the book is to make good choices in life. Learn how to work with others who are different from you. Try not to judge someone before you get to know them. Be confident and believe in yourself. Stand up for your friends to bullies. Be sure to think things through before you make a decision, as those decisions could dictate the kind of life you will lead.
DP: How do you choose the names of your characters?
MC: I chose the names of my characters for this book after family, friends, characters from my favorite T.V. shows and movies as well as pets I had growing up.
DP: What do you do when you have writer's block?   
MC: When I get writer's block, I write in my journal. I write about my day. I find that when I do this and distract my mind from the story it helps me get past my block.
DP: What was your favorite chapter (or part) to write and why?
MC: Chapter four in the book is my favorite. It's one of the first lessons that Chilli figures out when it comes to judging people. Chilli's first impression of Gary's character is that he's a mean, grumpy old man. By the time the readers get to this part of the book with Chilli, they see that Gary isn't a mean person. He's just sad as he is dealing with the recent loss of a loved one. Chilli see's the sadness in Gary's eyes and realizes that he passed judgment on Gary before he got to know him. The line in this part of the story where Chilli talks about Gary's laughter and how it makes you feel good to be in its presence is definitely one of my prouder moments as a writer.
DP: If you were stuck on an island and had to have one person from each category with you, who would they be and why:
a. One character from your book:
MC: The Character from my book that I would want to be stuck on an island with is Chilli. The reason why is simple: he is truly my best buddy and we would have a lot of fun!
b. One fictional character:
MC: The fictional character that I would want to be stuck on an island with would be Mickey Haller from the Michael Connelly Novel "The Lincoln Lawyer". The reason why is, given some of my life experience, Mickey Haller being the type of Lawyer he portrays in Connelly's novels would lead to some great conversations about the moral dilemmas of determining what is right and wrong in the eyes of the law. Then having to defend that position.
c. One famous person (living or dead):
MC: The famous person I would want to be stuck on an island with would be Paul Newman. The reason why is his character portrayals in the movies "Color of Money" and "Nobody's Fool" reminds me of a combination of both my Grandfathers. For different reasons, but they were both important to me in my life. I miss them both very much.
DP: Besides writing, what are your other interests?
MC: Other than writing, I love St. Louis Cardinal Baseball. One of the books I wrote that will be out soon titled "Out of Play" is based on the St. Louis Cardinals and Chicago Cubs rivalry. Even though he is a grown man, I love hanging out and doing things with my son Cohl. I really enjoy going to concerts or live music performances. One of my greatest memories of a live performance was seeing B.B. King on Beale Street in Memphis. I'm an avid moviegoer. I enjoy working out, camping, float trips, anything that has to do with the ocean, and of course going on rides with my best buddy, my dog Chilli!
DP: Do you keep a journal?
MC: I do keep a journal. I do that to help keep my story ideas for upcoming projects in order. I also use it for the current books I am working on when an idea for a storyline pops into my head.
DP: How did you celebrate the publishing of your book?
MC: I made a pizza and read my book reliving the story I created about Chilli and all his friends. Then I called my mom and all those who stood by me as I've been on this journey at this stage of my life to get their thoughts on the final product. I sensed a little bias, but they all said they loved it!
DP: If your book was made into a movie, who would play the main characters?
MC: If this book were made into a movie, I would like to see Ryan Reynolds play Chilli. Charlie Day play Hercules, Kevin Hart to play Lucky, Zac Efron to play Thomas, Christian Bale would play Higgins, Hugh Grant would play Elton, Joe Pesche and Robert Deniro to play the Farillo Brothers, Samuel L. Jackson would play Razor, Bradley Cooper would play Carl, Charlie Sheen would play Bandit, Vince Vaughn would play Harry, and Charlize Theron would play Rose… I'd be lying if I hadn't given this some thought (wink, wink Hollywood)! I think this group of talented actors would make a great movie!
DP: What did you enjoy most about working with Dorrance Publishing?
MC: What I enjoyed the most about my working with Dorrance Publishing was the encouragement I got from the beginning when I submitted my manuscript. Barb Ennis and Sandi Kruse were instrumental in helping bring this story to life. I'm very grateful for all their help and feedback during this process.
DP: Five favorite books of all time?
MC: My five favorite books of all time are:
1) " Empire Falls " by Richard Russo
2) " The Life We Bury " by Allen Eskens
3) " Paper Boats " by Thao Lam
4) " The Stand " by Stephen King
5) Anything written by Author's Michael Connelly, and David Baldacci
DP: One sentence of advice for other writers:
MC: The advice I would give to any writer would be "Don't take yourself too seriously we all have a story or stories to tell, so just write about them!"
Are you ready to publish your book? Contact us today!
A Dog Named Chilli: My New Home