Author Spotlight: Lorna Dickinson
This week we spotlight Lorna Dickinson, author of Dorrance title I Am a Feather.
Name:  Lorna Dickinson
Hometown: Looe, Cornwall, England
Book Title:  I Am a Feather
Genre: Historical Fiction based around real events.
Dorrance Publishing (DP): Describe your book in 10 words or less:
Lorna Dickinson (LD): America's origin story is not what you think it is.
DP: What made you want to write your book?
LD: Getting frustrated with reading Thanksgiving stories with no basis in fact.
DP: How long did it take you to write your book?
LD: It took years of research, thinking someone must have written this story already then realising if I didn't write it no one else would.
DP: How do you choose the names of your characters?
LD: I use real names throughout, apart from the young protagonist who is given a popular contemporary name.
DP: What do you do when you have writer's block?
LD: Sleep on it.
DP: What was your favorite chapter (or part) to write and why?
LD: The chapter which dealt with the actual Thanksgiving celebration, because I found a historical document in a University library which tells of how before the Pilgrims arrived, the East Coast Indians all started dreaming about music and they all heard the same tune.
DP: If you were stuck on an island and had to have one person from each category with you, who would they be and why?
– One character from your book:
LD: Squanto
– One fictional character:
LD:  Mary Poppins
– One famous person (living or dead):
LD: William Shakespeare
DP: Besides writing, what are your other interests?
LD: Family, Friends, Food, Music and Travel
DP: Do you keep a journal?
LD: Fitfully.
DP: How did you celebrate the publishing of your book?
LD: Breathing and smiling.
DP: If your book was made into a movie, who would play the main characters?
LD: Sir Ian McKellen, Jason Mamoa, Sacheen Little Feather and Scott Eastwood – a real Mayflower descendant.
DP: What did you enjoy most about working with Dorrance Publishing?
LD: The freedom to create the book I wanted.
DP: Five favorite books of all time?
LD: I Know Why The Caged Bird Sings – Maya Angelou
A Wrinkle In Time – Madeleine L'engle
The Golden Notebook – Doris Lessing
Woman On The Edge Of Time – Marge Piercy
Framed – Frank Cottrell-Boyce
DP: One sentence of advice for other writers:
LD: JUST DO IT!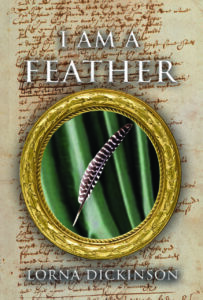 Are you ready to publish your book? Contact us today!