Author Spotlight: Jim Armstrong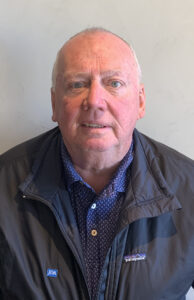 Name: Jim Armstrong
Hometown: Elliot Lake, Ontario, Canada (currently living in Phoenix, AZ)
Book Title: Going Down the Road
Genre: Memoir
1. Describe your book in 10 words or less.
The personal adventures of a successful software entrepreneur.
2. What made you want to write your book?
To provide a history of the many adventures I experienced beginning in a small Canadian mining town to success in the tech industry in the USA.
3. How long did it take you to write your book?
It took me over thirty years to complete my book.
4. How do you choose the names of your characters?
It's non-fiction so (except when pseudonyms are appropriate) names are real.
5. What do you do when you have writer's block?
I've never experienced that, but I only write when I have no other pressing issues.
6. What was your favorite chapter (or part) to write and why?
Part Two, as I made the transition from aimlessness to tenacity.
7. If you were stuck on an island and had to have one person from each category with you, who would they be and why:
My wife of course, which is one prominent theme in the book.
a. One character from your book:
My friend Gil Gillenwater.
b. One fictional character:
Tom Hanks's character in "Saving Private Ryan".
c. One famous person (living or dead):
Winston Churchill as he had a more meaningful impact on modern history than anyone else.
8. Besides writing, what are your other interests?
Piloting aircrafts, photography, and spending time with my grandchildren.
9. Do you keep a journal?
I did until the book was complete.
10. How did you celebrate the publishing of your book?
I gave copies to my children and grandchildren.
11. If your book was made into a movie, who would play the main characters?
I don't think the book is appropriate for a movie.
12. What did you enjoy most about working with Dorrance Publishing?
Seeing the final copy in print.
13. Five favorite books of all time?
Mawson's Will by Lennard Bickel, The Forgotten Soldier by Guy Sajer, The Last Lion: Winston Spencer Churchill by William Manchester & Paul Reid, Endurance: Shackleton's Incredible Voyage by Alfred Lansing, and The Desperate People by Farley Mowat
14. One sentence of advice for other writers:
Non-fiction is history so be true to the facts, but let observation and opinion drive the story.
Are you ready to publish your book? Contact us today!