Author Spotlight: Janine Nugent
Name: Janine Nugent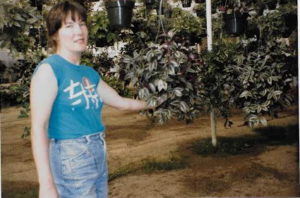 Hometown:
Book: King Godfrey's New Stove
Genre: Children's
Describe your book in 10 words or less. Children's fantasy featuring King Godfrey, his children, and palace life.
What made you want to write King Godfrey's New Stove? I wanted to create a humorous, slightly far-fetched event a young reader could laugh about.
How long did it take you to write your book?  Over the course of three to four days.
How do you choose the names of your characters? For the daughters' names, I experimented with unusual spellings and pronunciations. The sons' names were names that made me laugh when I heard them.
What do you do when you have writer's block? I take a long walk, clear my head of distractions, and images, words, and ideas start popping into my head.
What was your favorite chapter (or part) to write and why?   My favorite part of my story is when the turkey flies off the platter landing on the banquet table, sending food in all directions.
If you were stuck on an island and had to have one person from each category with you, who would they be and why? 

One character from your book: King Godfrey, who is a chubby, little old man who has an interesting palace life.
One fictional character from another book: Inspector Hercule Poirot–I love his powers of deduction and sleuthing.
One famous person: Alfred Hitchcock who was a masterful director responsible for some of the greatest movies I have ever seen.

Besides writing, what are your other interests? Travel, watching all sorts of film genres, and reading fiction and biographies of famous historical figures.
Do you keep a journal? No.
How did you celebrate the publishing of King Godfrey's New Stove? I took my friends out to dinner.
If your book was made into a movie, who would play the main characters? The late Charles Durning would play King Godfrey. His daughters would be played by Kirsten Dunst, Anna Camp, and Genevieve Angelson.
What did you enjoy most about working with Dorrance Publishing?  A hands-on approach to getting the book ready to print.

Five favorite books of all time?  Breakfast at Tiffany's by Truman Capote, Herzog by Sam Bellow, Humboldt's Gift by Sam Bellow, Independence Day by Richard Ford, Lay of the Land by Richard Ford

 One sentence of advice for other writers?  Stay positive about the quality of your creative process and the results it produces.