Author Spotlight: Dorothy J. Moore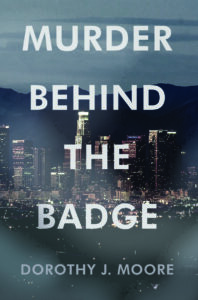 Name: Dorothy J. Moore
Book Title: Murder Behind the Badge
Genre: Crime/Mystery
Dorrance Publishing (DP): Describe your book in 10 words or less.
Dorothy J. Moore (DJM): Suspense, Mysterious and Thrilling.
DP: What made you want to write your book?
DJM: My book is fiction and I wanted to write it because of my imagination.
DP: How long did it take you to write your book?
DJM: I started this book a long time ago. For a while I put it away, but then I decided it was time to finish.
DP: How do you choose the names of your characters?
DJM: All the names of my characters just came to me from my head.
DP: What do you do when you have writer's block?
DJM: This is my first book, I haven't reached that point yet.
DP: What was your favorite chapter (or part) to write and why?
DJM: The last chapter, Chapter Forty Two. It seemed that everything was coming together for Lieut. Bradford. At the end, he found love and peace.
DP: If you were stuck on an island and had to have one person from each category with you, who would they be and why:
a. One character from your book:
DJM: Captain George Marsh. He was a family man and romantic.
b. One fictional character:
DJM: I always liked leprechauns.
c. One famous person (living or dead):
DJM: Paul Newman, he was always my favorite actor.
DP: Besides writing, what are your other interests?
DJM: I like to travel and I also like walking.
DP: Do you keep a journal?
DJM: No.
DP: How did you celebrate the publishing of your book?
DJM: I don't think I've really done that yet.
DP: If your book was made into a movie, who would play the main characters?
DJM: Commissioner Maxwell (Tommy Lee Jones), Lieut. Bradford (Harrison ford), Captain George Marsh (Robert Duvall).
DP: What did you enjoy most about working with Dorrance Publishing?
DJM: Working with Dorrance I learned a lot about writing a book because in the beginning I knew nothing. I enjoyed talking to each person from different departments that walked me through the process step by step.
DP: Five favorite books of all time?
DJM: The Other Side Of Midnight (Sidney Sheldon), The Stone Diaries (Carol Shields), The Pelican Brief (John Grisham), Little Women (Louisa Mae Alcott), A Thousand Summers (Garson Kann).
DP: One sentence of advice for other writers:
DJM: Keep writing, don't stop!
Are you ready to publish your book? Contact us today!