Author Spotlight: Chuck Shields
Name: Chuck Shields
Hometown: Reno, Nevada
Book Title: The Disney Apprentice: Transferable Lessons Learned
Genre: Non-Fiction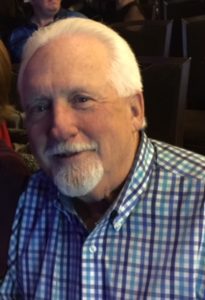 Dorrance Publishing (DP): Describe your book in 10 words or less.
Chuck Shields (CS): Stories in Disney culture, leadership, and transferable best practices.
DP: What made you want to write your book?
CS: My wife and daughter, who work with me in my consulting practice, urged me to take time out to share my Disney stories and experiences. I wanted organizations to understand how many of the best practices and cultural interventions designed at Disney can be successfully integrated into other organizations. My challenge at ManorCare/Choice Hotels Intl. was to see if we could use several of the best practices in an entirely different industry. It worked and we set new standards for the healthcare industry for Talent Management.
DP: How long did it take you to write your book?
CS: Eight months. Included fun stories, best practices, lessons learned, and Disney trivia.
DP: How do you choose the names of your characters?
CS: Used actual people and experiences.
DP: What do you do when you have writer's block?
CS: I avoided writer's block for the most part by spending considerable time upfront in developing a sequential outline. Occasionally had to stop and review where I was on the outline and create bullet points on the issues I wished to address.
DP: What was your favorite chapter (or part) to write and why?
CS: A toss-up between discussing my time leading the Disney University, which was described to me by the President of our Theme Parks worldwide as the "Keeper of the Keys of our culture" and my years at Imagineering helping recruit the creative design staff, the engineering team, project management team and prototype manufacturing group that designed, engineered, and built EPCOT Center and our first overseas version of Disneyland in Tokyo, Japan.
DP: If you were stuck on an island and had to have one person from each category with you, who would they be and why:
a. One character from your book:
CS: Van France, the first Manager of the Disney University. He and I developed a wonderful relationship during my Disney Days.
b. One fictional character:
CS: None.
c. One famous person (living or dead):
CS: George Bush Sr.
DP: Besides writing, what are your other interests?
CS: Still consulting with some very interesting organizations. Golf and my 7 grandchildren.
DP: Do you keep a journal?
CS: No, but I should.
DP: How did you celebrate the publishing of your book?
CS: Sent copies to my family and close friends.
DP: If your book was made into a movie, who would play the main characters?
CS: Not sure it would work as a movie.
DP: What did you enjoy most about working with Dorrance Publishing?
CS: There interest in marketing the book.
DP: Five favorite books of all time?
CS: 1. The Host 2. Clive Cussler books 3. The Da Vinci Code 4. Jack Reacher
DP: One sentence of advice for other writers:
CS: It's hard work, but a great feeling of accomplishment when completed.
Are you ready to publish your book? Contact us today!