Author Spotlight: Catherine A. Roser Rybak, "Pooch in a Pound (A Dog's Point of View)"
This week on Author Spotlight, we speak to Dorrance children's author Catherine A. Roser Rybak. Her book, Pooch in a Pound (A Dog's Point of View), follows a dog named Pooch as he waits and hopes for that special family to visit the animal shelter, fall in love with him and maybe take him to his forever home. She discusses her inspirations for writing, as well as some of her other favorite stories!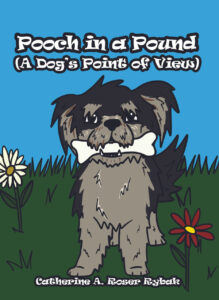 Name: Catherine A. Roser Rybak
Hometown: Oil City, Pennsylvania
Book Title: Pooch in a Pound (A Dog's Point of View)
Genre: Children's Fiction
Describe your book in 10 words or less.
 Life and times of shelter dogs finding their forever homes.
What made you want to write your book?
 Animals have always been a passion my whole life, especially animals that need our love and support. I have written short stories all my life since childhood. They were mostly about animals.
 How long did it take you to write your book?
 I worked on it off and on for probably around three months.
What do you do when you have writer's block?   
 You need many times to work on a whim. Many times ideas come to me in the middle of the night, while driving, sometimes even while listening to inspirational music. For me, I can't plan to write, it appears when you least expect it.
 What was your favorite part to write and why? 
My favorite part of my book is when both dogs have a happy ending. We know this family surely will love them and support them the entire rest of their lives. That is what every pet dreams for their life.
What was it like working with your illustrator? 
 My illustrator went far beyond my expectations. I knew the work would be wonderful, but I was breathless the first time I glimpsed my cover. I appreciate how they went above and beyond for me.
If you were stuck on an island and had to have one person from each category with you, who would they be and why:
a. One friend or family member:
 Well, I know I would surely make it if my husband Greg was with me. He is truly a survivor! I can't answer this because I would still want each one of my children and grandchildren there, but I would not want any of them stuck on an island!
b. One fictional character:
 I think Dorothy from the Wizard of Oz would know how to survive! Look at all the obstacles she overcame!
c. One famous person (living or dead):
 I think Agatha Christie would be very interesting and enchanting. I love a good mystery.
What are some of your hobbies?
 I love crossword puzzles, I love reading mysteries, I love spending time with family, taking care of pets, and staying up watching late night tv.
How did you celebrate the publishing of your book?
 My family had a Book Launch party for me at a beautiful hometown park. My children gave me flowers on two different occasions for my book.
If your book was made into a movie, who would play the main characters?
 It would need to be my furry grandchildren dogs Benny and Scrappy. They are Pooch and Puppy Dog in the book. All the animals in this book are pets from my life and from my family's lives. Some are from the past and some are in the present time.
What did you enjoy most about working with Dorrance Publishing?
Dorrance Publishing helped me every step of the way. They were very supportive! Sometimes I can be very particular.
Five favorite books of all time?
Gone With The Wind, Wuthering Heights, Rascal, Old Yeller, and The Diary of Anne Frank
Any advice for anyone looking to write a children's book?
I suggest you follow your heart, write about what you are passionate about, sometimes a past experience makes a great story.
Thank you, Catherine!
Catherine has the following BOOK EVENTS:
September 3, 2022
Book Warehouse
Grove City Premium Outlets
1911 Leesburg
Grove City Road
Suite 1020
Grove City, PA
2 to 5 p.m.
---
September 10, 2022
Precious Paws Pet Fest
Bandstand Park, Franklin, PA
10 to 4 p.m.
---
September TBD
Carlson Library
840 Wood Street
Clarion, PA
---
September/October TBD
Erie Barnes and Noble
Meet and Greet, sales and signing
5909 Peach Street
Erie, PA
---
October 1, 2022
Story Time/Meet and Greet
Riverstone Bookstore
8850 Covenant Ave.
Pittsburgh, PA  15237
9:30 a.m.