Author Spotlight: Beverly J. Graves
This week on author spotlight, we speak to Beverly J. Graves, author of Spanning the Miles, a love story from World War II.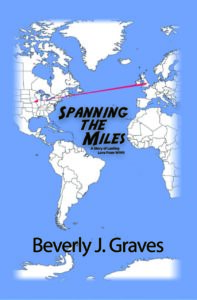 What inspired you to write the book?
It is the biography of my parents.  My dad was an American serviceman stationed in Cottesmore, England and met my mom at a dance in Leicester, England.  She was just 18 and he was 25.  They married in June of 1945 just as the war was ending and dad was shipped home six days after the wedding ceremony.  Mom didn't get to come to America until March of 1946.  They wrote letters back and forth during that time, beautiful love letters, which they both kept.  I got the letters when mom died and reading them prompted me to write their story.  Dad grew up in Albia, Iowa and that's where they lived all their lives and where I grew up in the same house that dad built after the war.  I now live in Pella, Iowa, just 35 miles from my hometown with my husband, Don.  We've been there 37 years. 
How long did it take to write the book? Were there any challenges, like writers' block?
I began writing the book about four years ago and it had a few changes as the years went along.  I didn't work on it diligently until this past year.  It began only as a chronicle of stories about mom and dad for my son, niece, nephew and their families so they would know their grandparents. It developed into the book. It sat in my computer for a long time before I decided to pursue publishing.  I never had writer's block; I just wasn't sure I wanted to publish their story at first.
What was your favorite part of the book to write and why?
My favorite story in the book is their meeting.  Mom had come to the Leicester Corn Exchange dance with her sister and best friend, something they did whenever they saved enough money from their jobs. Extra money for pleasure was scarce. Dad was there with his army buddies on a weekend leave from the Army base.  Dad saw mom as she entered the building and was struck with love at first sight.  He was terrified to ask her to dance, but his best buddy encouraged him to do it.  Mom loved to dance, in fact, she and her sister had won a Jitterbug contest at the Corn Exchange.  She thought dad was handsome in his uniform and hoped he was a good dancer, which of course, he was not.  She didn't want to dance with him again, but when he came back the second time, she couldn't refuse the handsome American soldier.  Little did she know how her life was going to change when she married him and came to America.
What are your other interests besides writing?
I am an entertainer.  I have sung with Country bands and traveled with my own musical/comedy show for 15 years.  I have performed in and/or directed 50+ plays for community theater. I will be directing the stage adaptation of this book for performance in July of this year.  I am an Ambassador for Pella and give guided tours of the town to tourist groups.  I volunteer at our Tourist Information booth in the summer and I am also a docent at the Scholte House Museum, the1847 home of the founder of Pella.  In quiet time at home, I knit and crochet and donate my items to our church for distribution.
Do you keep a journal?
I have never kept a journal, I am not dedicated to doing that on a daily basis.  I write when the inspiration comes to me.
How did you celebrate the publishing of your book?
I am celebrating my book by offering it for sale and donating the proceeds to the King Opera House restoration project in my hometown of Albia, Iowa.  It was built in 1903 and the community is raising money for a 3-Phase restoration project. 
If your book was made into a movie, who would play your characters?
If my book was made into a movie, I would want someone like Keira Knightley to play my mom and maybe Jake Gylllenhaal for my dad. 
What has been the best part about working with Dorrance?
Dorrance Publishing's personnel have been wonderful to work with.  Everyone is so pleasant and helpful when I've had questions.
What are five or your favorite books?
My five favorite books would be mine, of course.  My childhood favorite "A Wrinkle in Time".  My sister's favorite "The Velveteen Rabbit",  Anything by Maeve Binchy.  The Bible.
What advice would you give aspiring writers?
My only advice would be to "just do it".  Don't put off starting your book; if you think you have a story in your head, just do it.  Sit down at the computer or with a notebook and pen in your hand and start making notes.  You will see that it will flow out of your brain through your fingers.
Do you have a biography or family story you would like to tell? Contact us!