Movies About Writers and Writing
As writers, the medium of art you're most represented in is obvious… books. But there are also many movies about writing, famous writers, and fictional writers. Ranging from horror to comedy to even fantasy, watching films about writing can help inspire your work, teach you new things about specific authors, provide you with new writing challenges, and even give you new insight on the writing process as a whole.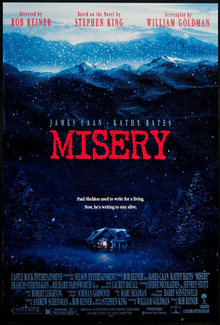 Misery
Playing on fears of fame and notoriety, this Stephen King novel turned film gives a new and more sinister meaning to the phrase "I'm your biggest fan." This movie follows a famous novelist, Paul Sheldon (played by James Caan), who gets into a car accident. He is discovered by Annie Wilkes (Kathy Bates), his self-proclaimed number one fan, who brings him back to her house to heal. This film is not only dark and suspenseful but also contains one of Kathy Bates's best performances of all time.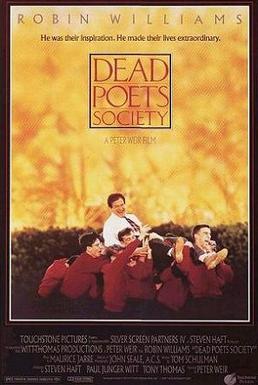 Dead Poets Society
This film stars Robin Williams in the role of John Keating, a new English teacher at a boy's preparatory school. He uses unconventional teaching methods to reach out to his students and to inspire them to 'Carpe Diem'. Also starring Ethan Hawke as Todd Anderson, the film is also a coming of age story which tackles the tough problems young adults face. This movie will have you laughing and crying, which isn't so shocking for a Robin Williams film.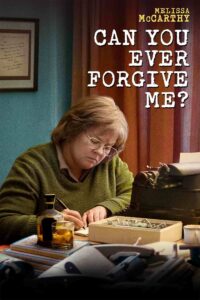 Can You Ever Forgive Me?
Based on a true story, this film stars Melissa McCarthy as Lee Israel, a struggling writer with bills that are piling up and a drinking problem to boot. In a desperate attempt to earn some money to support her writing, she begins to forge letters from famous writers and sell them to bookstores and collectors. Given that the basis of this film centers around being a struggling writer, it can definitely hit a little close to home for the writers out there. This movie is also a rare de-evolution story in the sense that the protagonist is already starting low and goes much lower. It also includes a killer performance by both McCarthy and her co-star Richard E. Grant who plays Jack Hock. It also contains the perfect writing exercise: Pick your favorite author and try to write a letter in their voice!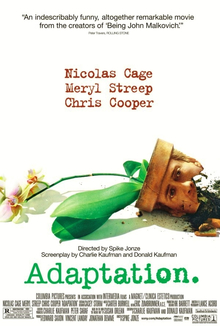 Adaptation
Starring Nicolas Cage as Charlie Kaufman, Adaptation is about Charlie's struggle both in his screenwriting career and with feelings of inadequacy. This all comes to a head when his twin brother, Donald, who also now has ambitions to be a screenwriter as well. The film is a meta-narrative about Charlie Kaufman's real-life failed attempts to adapt Susan Orleans 'The Orchid Thief' into film, with some fictionalized elements like the twin brother.  First off, who wouldn't want to see Nick Cage play twins? But seriously, this film is not only hilarious but also includes performances from Meryl Streep, Tilda Swinton, Brian Cox, Judy Greer, and more.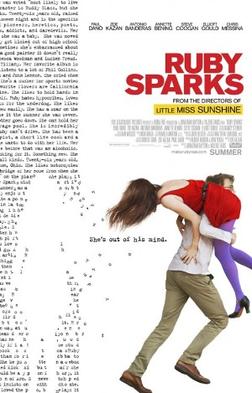 Ruby Sparks
One of the more imaginative versions of a writer/writing film, Ruby Sparks is about a writer who is suffering from writer's block after his first novel received critical acclaim. He begins to get over his writer's block when he dreams of a girl, a fictional creation who he names Ruby Sparks. As he writes about Ruby, he begins to fall in love with her until, suddenly, she has seemingly materialized into a real person who already believes they're together. Written by Zoe Kazan, who plays Ruby Sparks in the film, the movie is about how the writing process at large can affect and warp our perspectives of relationships.