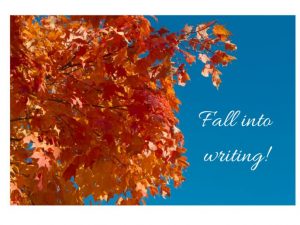 Autumn is now upon us and it proves to be the perfect time to fall back into writing.
Perhaps work, picnics or summer vacations threw you off the writing track. Whatever it was that caused you to take a hiatus from your book, a new season lends itself to fresh opportunities to chase your writing dreams.
If you're looking for inspiration to help you get back to writing, the best thing to do is to practice every single day. Rather than jumping right in, take it day-by-day and get your creative juices flowing by writing about any topic under the sun!
Here are five writing exercises that we hope will rev up your imagination and give you some ideas on what to write about!
Recycle ideas – Take something that you've written in the past and rewrite it in a completely different way. Seeing an old piece that you've previously written and writing it again with a fresh mind and perspective can help spur creativity.
The future– As kids, we thought about the future all of the time. As adults, it's important to get in touch with our inner child sometimes and use our imaginations. Take the time to write about the future. It can be a broad idea or you can get as intricate as you'd like.  Just let your imagination run wild!
Picture this – Choose any picture, from a picture in a magazine, to a picture in your house or one that you just happened to see while running errands. Whichever picture you choose, use it as inspiration to write a short story. Describe what happened right before the camera shuttered and what's going to happen after the picture is taken. Use your imagination – the opportunities are endless.
All in the family – Do you have a family heirloom that's been passed down from generation to generation? If so, write about that object. What is it? What's its significance? Who had it before you? Who will have it next?
Quotes – Do some research and find a quote that really inspires you. Take that quote and write a short piece using it as the cornerstone of your thoughts. Imagine that once completed, you'll be using what you've written as an acceptance speech.
If you want to take your writing efforts a step further or simply get back into the writing mode, take note of these five ideas to help kick-start your creativity!