Dorrance Book Spotlight: Flying Beyond Fear Workbook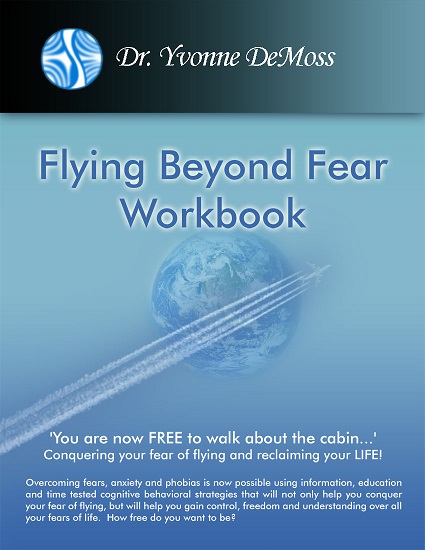 A racing heart, quick breaths and sweaty palms; all of these are signs of fear. Though not an emotion that's actively sought after, fear is essential to living.
It gives us life, it brings us into the present moment, and makes us come face-to-face with a situation that's jarring, that takes us out of our comfort zones.
There's a fine line between fear that makes us better and fear that freezes us right in our tracks.
Dorrance author Dr. Yvonne DeMoss tackles the topic of fear and how to manage this emotion in a healthy and constructive manner in her Flying Beyond Fear Workbook.
Dr. DeMoss has worked in a private practice for more than 20 years. In this time, she's worked with individuals who suffer from anxieties, mood disorders and phobias. In addition to the Flying Beyond Fear Workbook, she has recorded two CDs to help anxious flyers relax and enjoy their flights.
Dr. DeMoss takes a look at how healthy fear, as our cave-dwelling ancestors knew, has increasingly become skewed in the context of modern living.
Though there are many sources of anxiety, fear and phobia in society as we know it, many people experience a debilitating fear when it comes to the thought of flying.
The thought of gliding through the air in a large vessel can make some people squirm in their seats and begin to exude symptoms of fear. For others, it's nothing short of a nightmare.
In the Flying Beyond Fear Workbook, Dr. DeMoss faces this fear head-on and dissects the roots that are often times associated with a fear of flying. From there, the fear of flying is carefully analyzed as she goes above and beyond to present elaborate measures that will combat and counter this fear.
Those who are suffering from this stifling anxiety will find solace and appreciate the insight that is eloquently discussed throughout this 218-page workbook.
Let your fears fly with the help of the Flying Beyond Fear Workbook. Grab your copy today.
Copyright Dorrance Publishing, 2016