Author Spotlight: Zane Stuart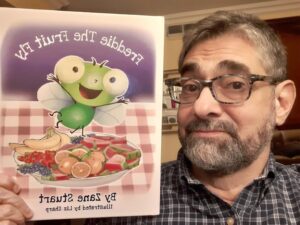 Name: Zane Stuart
Hometown: Boca Raton, FL
Book Title: Freddie The Fruit Fly
Genre: Children's
Dorrance Publishing (DP): Describe your book in 10 words or less.
Zane Stuart (ZS): Optimistic, adventurous fruit fly finds his way in the world.
DP: What made you want to write your book?
ZS: I saw fruit flies in the market, which caused me to recall seeing them occasionally in my kitchen. I started thinking about how a fruit fly might get from the market to someone's kitchen, and the story took off from there.
DP: How long did it take you to write your book?
ZS: All in all, it took many years. I wrote the first part of the book pretty quickly. Not knowing how to pursue publishing, the manuscript sat for a long time. Inspiration hit again, and I came up with more ideas about how Freddie's journey would continue, and I added to the story. I pitched it to literary agents and got good feedback, but none of them decided to go with the book. Years later, I saw an ad for Dorrance on my computer. I sent them the manuscript and they accepted it! I found a great illustrator, and with Dorrance's help, we finished the book to my great satisfaction.
DP: How do you choose the names of your characters?
ZS: In this case, I went with sound keeping with F for fruit fly. Freddie was an easy choice. And his girlfriend's name is Francine. Also, my father's name was Fred.
DP: What do you do when you have writer's block?   
ZS: Step away, get some fresh air, and come back to it. Be kind to yourself. The inspiration will return.
DP: What was your favorite chapter (or part) to write and why?
ZS: I love the transitions—Freddie really travels. I have great fun coming up with creative ways to get him from one place to another.
DP: If you were stuck on an island and had to have one person from each category with you, who would they be and why:
a. One character from your book:
ZS: The lady, because she's the only human who is relevant to the story.
b. One fictional character:
ZS: Freddie! Because he's so positive.
c. One famous person (living or dead):
ZS: I would choose George Carlin.
DP: Besides writing, what are your other interests?
ZS: Music, jamming with others, playing and teaching blues harmonica, practicing Qi Gong.
DP: Do you keep a journal?
ZS: Not currently, but that's a great reminder! I used to write Morning Pages, inspired by Julia Cameron's book, The Artist's Way.
DP: How did you celebrate the publishing of your book?
ZS: Dinner with girlfriend and friends, but I'm always celebrating this achievement.
DP: If your book was made into a movie, who would play the main characters?
ZS: The main characters would be played by Tom Hanks and Drew Barrymore.
DP: What did you enjoy most about working with Dorrance Publishing?
ZS: I enjoyed their kind, knowledgeable, and expert assistance.
DP: Five favorite books of all time?
ZS: Autobiography of a Yogi by Paramahansa Yogananda; The Tracker by Tom Brown Jr.; Mousekin's Golden House by Edna Miller; Black Elk Speaks by John Gneisenau Neihardt; The Horse's Mouth by Joyce Cary
DP: One sentence of advice for other writers:
ZS: If you are entertained by your ideas, others will be too!
Are you ready to publish your book? Contact us today!