Author Spotlight: Shelia Kinneer Robb
Name: Shelia Kinneer Robb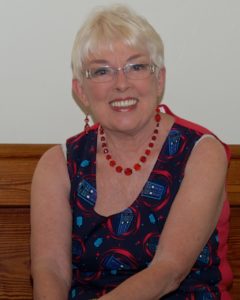 Hometown: St. George, Utah
Book: Love On Line
Genre: Senior Christian Romance
Describe your book in 10 words or less. Two single seniors find love on a Christian website.
What made you want to write your book? I felt that my experience should be shared with other lonely single seniors who felt that they may be too old for romance.
How long did it take you to write your book? About six months to one year.
How do you choose the names of your characters? In this book, I used the names of the people involved but otherwise, I pick names I like.
What do you do when you have writer's block? I stop and write on some other manuscript. I have many partly finished things on my computer.
What was your favorite chapter (or part) to write and why? I liked them all. I never became bored with the book. I suppose the first chapter may have been my favorite.
If you were stuck on an island and had to have one person from each category with you, who would they be and why? 

One character from your book: The main male character because he is now my husband and even after six years, I'd rather be with him than anyone I know.

One fictional character: Lucy, the main character from my first book, Gossamer Curtain. She was a wise and loving character and she loved so much the character Emmi who was an abused child who never really had a chance.
One famous person: Dr. Elizabeth Kubler-Ross, who wrote the book Death & Dying in 1969. She was a Swiss-born lady and psychiatrist who began what is now Hospice. She developed a "cocktail" to give the terminally ill patients to make their last days comfortable ones. Among other things, she discovered that to give terminal patients a routine dose of pain medications instead of an "On-demand" request by the patient, the patient needed less of it. Additionally, the stress of having pain and the stress of length of time it took to get the med and the stress of the length of time before it worked was reduced, dramatically (in my other life, I was a nurse). 

Besides writing, what are your other interests?  Music (piano), cooking, sewing, flowers, birds, medicine. I am a retired registered nurse.
Do you keep a journal? No, I don't.
How did you celebrate the publishing of your book? Nothing yet, this one is just published.
If your book was made into a movie, who would play the main characters? Spencer Tracy would be good for the part of my husband but I believe he has passed on.
What did you enjoy most about working with Dorrance Publishing? Their enthusiasm.

Five favorite books of all time?  Anything written by James Michener, anything written by Diana Gabaldon, the Jean Auel series.

One sentence of advice for other writers? Keep writing and don't show your work to your family until it's published.