On this Monday's Author Spotlight, we sit down with Omaira, author of Dorrance title I Should Have Told. I Should Have Told is a short story of lost innocence, strength, and resilience based on true events.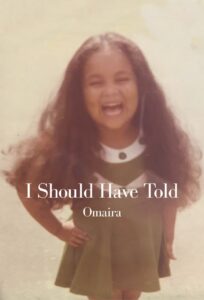 Name:
Omaira
Hometown: Philadelphia, PA
Book Title: I Should Have Told
Describe your book in 10 words or less.
My book is my story of resilience and survival, as I remember it.
What made you want to write your book?
I wanted to write my story for many years but refused to until my grandmother passed on. I never told her what happened and had to live with that decision. I wanted to finally set myself free. If I never told, how many other young children never told? One of my goals is to be able to help other people who have been in similar situations or hopefully prevent them.
How long did it take you to write your book?
It only took a few weeks for me to write my book. Once I decided to do it, there was no stopping. It took me longer to edit than to write.
What do you do when you have writer's block?   
Thankfully I did not have writer's block, but I did have periods where I needed mental breaks. Some parts were very difficult to write as it felt as I was reliving those moments. When that occurred, I stopped for a few days and occupied myself by reading a book unrelated to my topic and enjoying walks outside.
What was your favorite part to write and why?
My favorite parts were when I was describing my life with my grandmother. She was and still is the most important part of my youth. The relationship that we shared was like none other. Although I do see similarities with my nine year old grandson.
Besides writing, what are your other interests?
I love to read! There will not be times when I am not reading a book or two or sometimes three. I love to travel to local campgrounds in our travel trailer and enjoy the peace and quiet of nature. I also love Jamaica. We have visited six times and fall in love with the culture, people and foods more each time.
Do you keep a journal?
Yes and No … I keep a daily planner where I write my thoughts for work and personal life. If I have thoughts about a book, I keep a separate file in my iPad where I will add ideas.  
How did you celebrate the publishing of your book?
I relaxed! I shut down all electronics and disconnected completely. I tried to clear my mind of everything. Once that was accomplished I invited a few of my closest friends and had a small book club discussion. That was the first time I ever talked about my experience with anyone.
What did you enjoy most about working with Dorrance Publishing?
Dorrance has been very attentive, professional and informative from the beginning when I did not know what to do to get my book published. They have helped me and answered all my questions. I even decided to publish two more books!
Five favorite books of all time?
Mutation – Robin Cook
Anything written by John Saul and Dean Koontz, Micheal Palmer
Alex Cross Series by James Patterson
I think that is more than five. As you can tell I am a big Horror fan.
What advice would you give other writers?
Just write! Don't worry about what others will think. Your book will not be for everyone but it will be for someone. 
Have a memoir ready to publish? Contact us!