Author Spotlight: Enid Brown Marshall
Name:  Enid Brown Marshall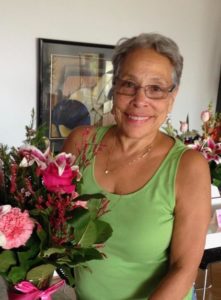 Hometown: Washington DC, currently in Parrish, FL
Book: Where Are You Duckie?
Genre: Children's
Dorrance Publishing (DP): Describe your book in 10 words or less. 
Enid Brown Marshall (EBM): A little girl's attachment to a baby duck.
DP: What made you want to write your book? 
EBM: I became fascinated by a little duck and other wildlife that made their home in the pond behind my house. Children can learn much from nature.
DP: How long did it take you to write your book?
EBM: I wrote the initial draft in one afternoon and refined it over the next nine months.
DP: How do you choose the names of your characters?
EBM: I choose names that typify the personality traits of the character. Beanie in the book reminds me of one of my granddaughters. Her nickname is Beanie.
DP: What do you do when you have writer's block?
EBM: Did not experience writer's block with this book. With other pieces, I put them away until the passion hits me to pick them up again.
DP: What was your favorite chapter (or part) to write and why?
EBM: My favorite part was Beanie's amazement and concern when realizing the duck is alone.
DP: If you were stuck on an island and had to have one person from each category with you, who would they be and why? 
DP: One character from your book
EBM: I would choose Beanie. She is curious and eager to learn. She would keep me engaged with life, events and the motivation for sure.
DP: One fictional character
EBM: Piscine Molitor Patel from Life of Pi. Pi exhibits a deep sense of self, inner strength, and a will to survive.
DP: One famous person
EBM: Ellen DeGeneres. She has a unique ability to pull humor out of absurdity. Laughter soothes the soul even under difficult circumstances.
DP: Besides writing, what are your other interests? 
EBM: I enjoy physical activities: walking, bike riding, TRX, and water aerobics.
DP: Do you keep a journal? 
EBM: I do not keep a daily journal. I do write down thoughts, observations, and storylines that move me.
DP: How did you celebrate the publishing of your book?
EBM: I shared the news and my excitement with close friends and family, especially my granddaughter Sharriah, who produced illustrations for the book.
DP: If your book was made into a movie, who would play the main characters? 
EBM: I imagine my book as an animated movie with the duck, egret, alligator, and turtles taking on personalities and dialogue. I see animation and the voice of Faithe Herman from This Is Us as Beanie and Alfre Woodard as Grandma.
DP: What did you enjoy most about working with Dorrance Publishing?
EBM: Each person involved in the publication and promotion of my book has been totally professional, efficient and very supportive while keeping me focused and on track.
DP: Five favorite books of all time?
EBM: The Kite Runner by Khaled Hosseini, Midnight in the Garden of Good and Evil by John Berendt, Cutting for Stone by Abraham Verghese, The Underground Railroad by Colson Whitehead, and Memoirs of a Geisha by Arthur Golden.
DP: One sentence of advice for other writers?
EBM: Write about topics, people, and events that you know and that have real meaning for you.