Author Spotlight: Crystal Nix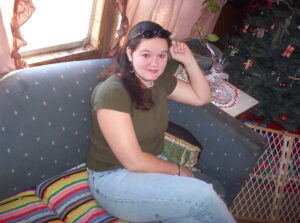 Name: Crystal Nix
Hometown: Wetumka, OK
Book Title: Darkness
Genre: Fantasy
Dorrance Publishing (DP): Describe your book in 10 words or less.
Crystal Nix (CN): Darkness is a vampire story where Lauren is trying to find love.
DP: What made you want to write your book?
CN: I have always loved writing since I was young. I wrote poetry for a while.
DP: How long did it take you to write your book?
CN: It took about six months.
DP: How do you choose the names of your characters?
CN: They just come to me when I am working on the story.
DP: What do you do when you have writer's block? 
CN: I work on other stories or works I have or I just start typing anything that comes to mind and go from there.
DP: What was your favorite chapter (or part) to write and why?
CN: The ending, I am a sucker for happy endings.
DP: If you were stuck on an island and had to have one person from each category with you, who would they be and why:
a. One character from your book:
CN: Magdalene, being a witch may be handy.
b. One fictional character:
CN: Acheron from Sherrilyn Kenyon books, then we wouldn't have to be stuck…haha!
c. One famous person (living or dead):
CN: Ian Somerhalder, he just seems so down to earth. It might be an interesting adventure.
DP: Besides writing, what are your other interests?
CN: I love spending time with family and friends or working with my dogs.
DP: Do you keep a journal?
CN: Yes, I have always journaled.
DP: How did you celebrate the publishing of your book?
CN: Pizza dinner with family.
DP: If your book was made into a movie, who would play the main characters?
CN: Not really sure, I'd just hope that they could be good actors with characteristics similar to descriptions of characters.
DP: What did you enjoy most about working with Dorrance Publishing?
CN: The publishers were very forthcoming so I knew what to expect.
DP: Five favorite books of all time?
CN: This is a hard question as I love to read. I love Nora Roberts, especially the series about the Quinn brothers. I am also a huge Sherrilyn Kenyon fan and love all the Dark Hunter novels.
DP: One sentence of advice for other writers:
CN: Never give up!
Are you ready to publish your book? Contact us today!