Author Spotlight: Carl Gravely
Name: Carl Gravely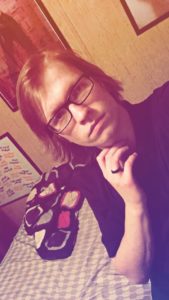 Hometown: Mount Airy, NC
Book: The Year I Was Bullied
Genre: Non-fiction
Describe your book in 10 words or less.  Bullying life story from the experiences of the author, to help save lives and inspire.
What made you want to write The Year I Was Bullied? To save lives and to inspire the many victims of bullying like myself.
How long did it take you to write your book? About two years.
How do you choose the names of your characters? The characters in my book are based on the people who bullied me. I just used their first initials to create the characters' names.
What do you do when you have writer's block? Listen to music that inspires me, where my creative juices can flow.
What was your favorite chapter (or part) to write and why? I don't really have a favorite part of my book. I enjoy it all.
If you were stuck on an island and had to have one person from each category with you, who would they be and why? 

One character from your book:  My brother, Joseph Brown

One fictional character: Scarecrow from The Wizard of Oz

One famous person: Michael Jackson

Besides writing, what are your other interests? I love to create new stories for TV shows, movies, plays, and musicals. And I love to sing which keeps my stress level down.
Do you keep a journal? No, I do not.
How did you celebrate the publishing of your book? I had a book release party on June 10.
If your book was made into a movie, who would play the main characters? Now that's a tricky question. There are so many great actresses and actors out there, it would be hard to pick just one.
What did you enjoy most about working with Dorrance Publishing? Great teamwork, fast product, honest communication. And affordable publishing. 

Five favorite books of all time?  The Wizard of Oz, Diana: In Your Own Words, Caitlyn Jenner: Secrets of My Life, A Mother's Reckoning by Sue Klebold, and Stephen King's IT.

One sentence of advice for other writers? If you have a story and you believe deep down that it will save a life or even inspire someone, then write it and reach out to Dorrance because they will make your dream a reality. Your story can do more for others…more than you really think.