Author Spotlight: Annie Streit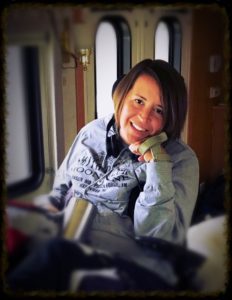 Name: Annie Streit
Hometown: New Castle, IN (I now live in Angola, IN)
Books: Scooter and His Scoot Scoot, A Dog Named Bird, Rough and Tough T-Bone
Genre: Children's Books
DP: Describe your books in 10 words or less. 
AS: Rhyming picture books focused on empathy, acceptance, and courage.
DP: What made you want to write your book?
AS: I wanted to start writing children's books because I have spoken to many groups about my experiences of navigating through life in a wheelchair due to a diving accident 13 years ago and overcoming obstacles, but I wanted to find a better way to connect and relate to a younger crowd. My first book, Scooter and His Scoot Scoot, is about a dog who was born different so he needs to use a "wheelchair." I have been able to visit many schools and share Scooter's story, and then relate my life to Scooter. I continued to write and my second book is titled A Dog Named Bird, and my third that is currently in the publishing process is titled Rough and Tough T-Bone. All of my books focus on accepting differences, overcoming obstacles, empathy, and just an overall feeling of love and respect.
DP: How long did it take you to write your book? 
AS: Scooter and His Scoot Scoot took me about three to four months to write.

DP: How do you choose the names of your characters? 
AS: I actually came up with Scooter's name after I decided that I wanted to call his "wheelchair" Scoot Scoot. A friend of mine had a company car that she drove for work, and she referred to it as Scoot Scoot because it was such a tiny car. The moment she said that I knew that was what I wanted to name the "wheelchair" in my book!
DP: What do you do when you have writer's block? 
AS: If I have writer's block I just have to set everything aside for a little bit. I have to come up with some of my best ideas when I go for a "roll" around the lake where I live while listening to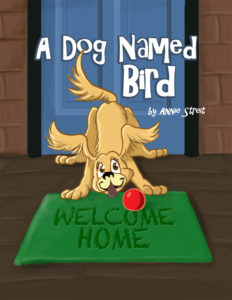 my favorite
music. The best tip I can give is that anytime you come up with ideas for your writing, you should always write it down. No matter what you are doing, just take a moment to make a note, because you may think you will remember, but you do not want to risk the chance of forgetting a great idea!+
DP: What was your favorite chapter (or part) to write and why? 
AS: My favorite part of all of my books is the very first page that describes and introduces the main character because I want anyone who reads it to really feel like they know the character.
DP: If you were stuck on an island and had to have one person from each category with you, who would they be and why? 
AS: One character from your book:  Scooter, because he is so relatable to my experiences and I created his personality off of my own.
One fictional character: Katniss Everdeen from The Hunger Games. If she can survive the Hunger Games, then I want her on my team!
One famous person: I think the wisest choice here is Bear Grylls. If you have any chance of surviving on an island, it would be with him!
DP: Besides writing, what are your other interests? 
AS: Some of my favorite things to do are watching movies, spending time with my family and friends, traveling in our adapted  RV, watching any kind of sport (especially fast pitch softball), motivational speaking, spending time on the water, and going to concerts.
DP: Do you keep a journal? 
AS: I do not keep a journal, but I have two blogs: www.annieauthorblog.wordpress.com and www.sixwheelswilltravel.wordpress.com.
DP: How did you celebrate the publishing of your book? 
AS: I celebrated the publishing of my first book by having a small get together at my best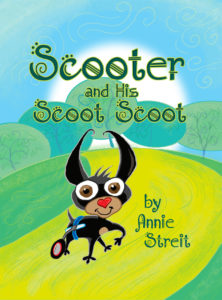 friend's house where I signed and sold my books.
DP: If your book was made into a movie, who would play the main characters? 
AS: The main character would be Scooter. He has a group of dog friends, but the focus of the story is on Scooter, and despite being different he can still do everything that everybody else does.
DP: What did you enjoy most about working with Dorrance Publishing? 
AS: My favorite part of publishing with Dorrance was seeing my story come to life. It was so exciting to see the cover of my book and all of the illustrations!

DP: Five favorite books of all time?
AS: The Art of Racing in the Rain, Oh, the Places You'll Go!, The Five People You Meet in Heaven, Night, 1984.

DP: One sentence of advice for other writers? 
AS: The best advice that I can share is to never stop writing, and sometimes the hardest things to write about can end up being your meaningful and best work.

Save
Save